Congratulations to the 2019 Winning Submissions!
Lost Childhood: An Essay by Talia Bernstein
Studying the Holocaust in depth changed my perspective of the Jewish history and contributed to my ability to write this essay. One thing that gave me a first hand perspective on this tragedy was reading Night written by Elie Wiesel, a survivor. Reading Wiesel's point of view in the Holocaust as one of the youngest victims made me realize that I wanted to focus on the children of the Holocaust. I chose my testimony based off of that interest, which is when I found Ann Shore's testimony of her oldest memories. After watching her testimony and taking notes on the events she had to endure, I answered the essential questions that would guide my way through this essay. Following my feedback and revisions, I have an essay that outlines Ann's early life and tells her survival story.
The Good Name: A Film by Yoeli Margolis
Originally, I simply began production for 'The Good Name' as a result of a school assignment. In my literature course we were supposed to write a biography of an interesting person as part of our end of the year project. Upon getting permission to do my project in film form, I immediately
contacted the man who I knew would make a perfect subject, Lew Sosnowik.
I produced the film primarily by combining interview footage with B-Roll images and videos. I showed it to Lew and he loved it. Afterward, I sent it out to my family who then distributed it to many of their friends. The feedback I received was overwhelmingly positive and the importance
of the message Lew stated was meaningful to so many people. At that moment, I realized the major impact this little project was having.

Thank God, my work had created much more than just a short film. It had documented the life and legacy of an amazing man, thereby preserving his story and message for eternity. My hope is that every viewer will be able to hear Lew's words and feel inspired by his incredible story and profound message.
The Seamstress: Artwork by Dylan Nolte
This piece was inspired by the testimony of Holocaust survivor Sarah Federman. Sarah said she survived the Holocaust and the killing of her son because it was her responsibility to keep his memory alive.
Her survival was an act of rebellion. So is this art piece. It depicts Sarah sewing, because when she lived in the ghetto prior to being sent to Auschwitz she was forced to sew Nazi uniforms. You see those watching over her shoulder. She is rebelling in the piece by sewing a blue baby blanket. This blanket represents her son's memory, and what she really should have been sewing instead of Nazi uniforms.
This piece is printed in a style inspired by 1940's German Expressionism. To make the piece, I first compiled and layered images in Photoshop to bring what I was imagining into an actual picture. I then made the image highly contrasted to only black and white. When the final image was completed, I hand carved that image into linoleum to create a template for printing. Finally, I used India Ink on the template to print the final piece on special printing paper and used oil pastel to hand color the blue baby blanket.
A Survivor's Warning: An Essay by Jack Walker
Upon hearing Dr. Werner Richheimer's story at the Holocaust Education Resource Center in Milwaukee in September of 2017, I was immediately captivated. The level of grace and dignity with which Dr. Richheimer was able to recount his experience as a survivor of the Holocaust greatly impressed me. In writing this essay (A Survivor's Warning), it was my goal to communicate this perspective while also highlighting the importance of never forgetting this human tragedy. I provide contextualization by detailing Dr. Richheimer's journey, followed by a reflection of his experiences. In each word that I typed, I was reminded of the gravity of the situation and how it is the responsibility of each generation to foster a world of empathy and understanding.
Past Contests
2017 Topic: Choose an example of survival, resistance or rescue from the Holocaust that has an impact on you. Explain how it influences the way you behave in the world today. Be sure to give historical details of your examples in your essay.
Photo: 2017 Holocaust Essay Contest Award Winners in Washington DC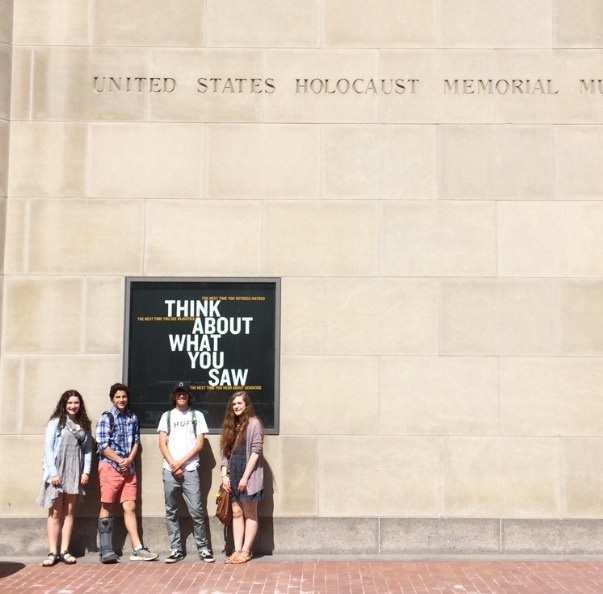 2016 Topic: How has learning about the Holocaust influenced the way you act, the way you look at the world, and/or the way that you treat others? In your answer use specific examples about events, groups, people, and/or survivors from the Holocaust.
Photo: 2016 Holocaust Essay Contest Award Winners in Washington DC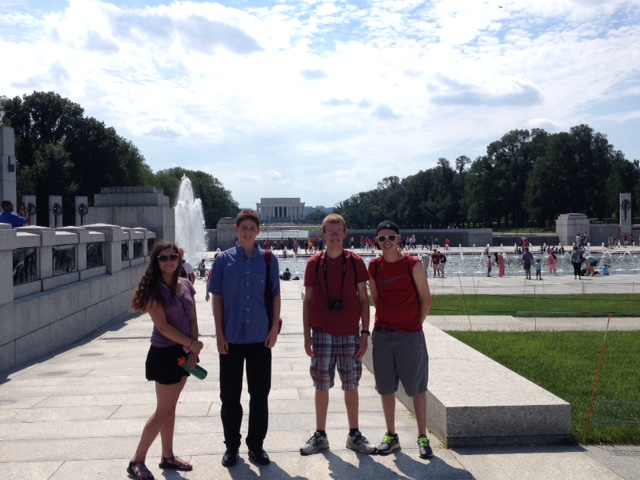 2015 Topic: Hate is rampant in the world today. Describe two lessons you have learned from studying the Holocaust that can help fight hate. Use specific examples about events, groups, people or survivors from the Holocaust that inspire each of these lessons.

Photo: 2015 Holocaust Essay Contest Award Winners in Washington DC
The Harry & Rose Samson Family Jewish Community Center, the Nathan and Esther Pelz Holocaust Education Resource Center, and the Jewish Museum Milwaukee are proud to partner on a contest that encourages middle and high school aged students to engage with stories of survival from the Holocaust. This contest is generously sponsored by the Habush Family Foundation.
Some of the materials for the Writing and Art contest have been adapted from Chapman University's Holocaust Art and Writing Contest, presented by the Rodgers Center for Holocaust Education, in partnership with The 1939 Society. We are grateful for their support and collaboration.