CANCELLED – Ghetto: Invention of Place & History of an Idea w/ Author Mitchell Duneier, Ph.D.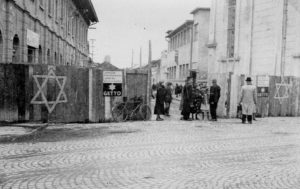 CANCELLED.
On March 29, 1516, the city council of Venice issued a decree forcing Jews to live in il geto―a closed quarter named for the copper foundry that once occupied the area. The term stuck.
Join Mitchell Duneier, department chair of Sociology at Princeton University and author of Ghetto: The Invention of a Place, the History of an Idea, as he traces the idea of the ghetto from its beginnings in the sixteenth century, to its revival by the Nazis, to present-day America. Duneier illuminates the significance of this age-old concept and its entanglements with race, poverty, and place in America today. Book sale and signing following lecture.
Museum Members: $6 |  Non-Members: $8
This program is held in connection with The Girl in the Diary: Searching for Rywka from the Łódź, on display at Jewish Museum Milwaukee January 24 – May 17, 2020.
Co-Sponsors:
Jewish Museum Milwaukee
Nathan and Esther Pelz Holocaust Education Resource Center (HERC)
The Sam & Helen Stahl Center for Jewish Studies at UWM
Jewish Museum Milwaukee
1360 N Prospect Ave