"My Heart in a Suitcase" Theatrical Performance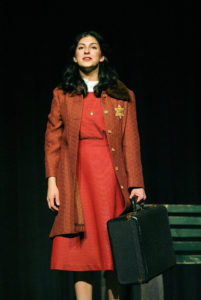 Anne Lehmann and her family no longer feel safe in their Berlin home. Life in 1938 Germany is deteriorating quickly for the Lehmanns and all Jews living there. In order to protect their daughter, Mr. and Mrs. Lehmann may have to say goodbye to her forever. Anne must struggle to bring meaning out of despair, to cling to love and hope even in a world that seems filled with hatred and violence. ArtsPower's gripping and poignant production about Anne and her family's decision whether or not to send her on the Kindertransport is a tribute to the strength of the human spirit and the enduring power of a family's love.
For more information contact HERC at 414-963-2710.
Free and open to the public.
Generously Sponsored By:
Drs. Susan & Paul Bernstein
Dr. Melissa Chudnow & John Yopps
Suzy B. Ettinger
Matthew & Miriam Fleming
Julie Gorens-Winston & Dr. James Winston
Steve & Mardee Gruen
Co-Sponsors:
Friends of The Wiener Holocaust Library
Harry & Rose Samson Family JCC
Nathan and Esther Pelz Holocaust Education Resource Center (HERC)
The Wiener Holocaust Library
Community Hall at Harry & Rose Samson Family JCC
6255 N. Santa Monica Blvd.