Remembrance of Things Past: Keeping the Stories of Jewish Poland Alive
feat. Witek Dabrowski & Leora Tec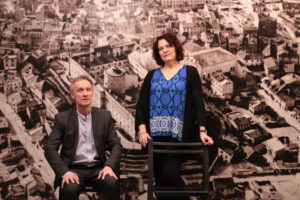 In this joint presentation-performance Witek Dąbrowski and Leora Tec will present the work of Brama Grodzka – Teatr NN, a cultural institution and theatre dedicated to preserving the memory of the Jews of Lublin, Poland and staffed entirely by non Jewish Poles. They will describe how their two di­vergent backgrounds led them to the same ultimate goal of Jewish remembrance, and how their histories and meeting ultimately became a part of that story. Interwoven into the presentation will be Witek's one man interpretation of a selection of stories authored by Nobel Prize winning writer Isaac Bashevis Singer. These stories reanimate the world of Singer's youth the Jewish Poland of 100 years ago. The presentation by Ms. Tec and Mr. Dąbrowski will be in English, while Mr. Dąbrowski's performance will be in Polish with English supertitles.
For more information contact HERC at 414-963-2710.
Free and open to the public.
More info to come…
Community Hall at Harry & Rose Samson Family JCC
6255 N. Santa Monica Blvd.