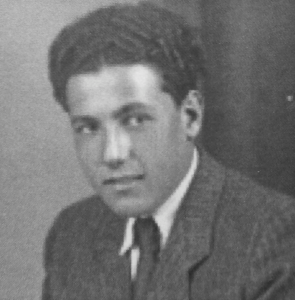 Howard Melton was born in Kovno, Lithuania on February 13, 1931. He was 10 years old when the war began and was immediately forced into a ghetto. In the ghetto, his mother volunteered him to be shipped to a labor camp in Latvia to help build the airport. Once there, he volunteered to work on a farm. His mother and younger sister were sent to Auschwitz in 1943 and gassed in January of 1945.  Howard was sent to the Dachau concentration camp. The conditions there were very harsh and people suffered from hunger and exhaustion. There were dead bodies everywhere, inside and out. In 1945 he was forced to march for ten days. Howard said goodbye to his friend that was with him, because the soldiers told them that they were going to be killed.
At the end of the march, Howard and his friend were rescued by the American troops who were very kind and fed them hamburgers and chocolate. At age 14, Howard weighed only 55 pounds.  Howard's father survived the war as well.
He moved to New York City in 1949, but later moved to Milwaukee to be near his friend, Albert Beder. Soon after in 1950, he joined the Air Force and was married in 1951.
Holocaust Stories: In their Honor feat. Howard Melton (March 18, 2017)
Howard Melton in Wisconsin Jewish Chronicle (May 5, 2016)
Howard Melton at Wisconsin DPI