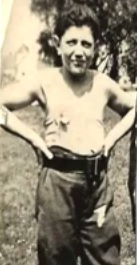 Born in 1928 in Radomysl Wielki, Poland, Nathan Taffel is a man full of memories. Robbed of his childhood by the Nazis he was twice saved by miracles. The youngest of eight children, Nathan "Nate" Taffel knew a wonderful, religious, love-filled, spoiled life until one day, when he was twelve years old, his world came crashing down. Rather than celebrating his Bar Mitzvah, Nate said a few prayers with his father, who announced he was now a bar mitzvah. Two days later, his town of Radomysl, Poland was besieged by the SS and his family fled on a horse drawn wagon.  Nate was eventually taken to the Mielec labor camp before being sent to Flossenberg, the concentration camp from which he was liberated in the spring of 1945.
In the late 1950s, after spending a few years in Australia, Nate settled in Milwaukee, marrying Muriel Guten and beginning a family.  Nate and Muriel currently reside in Mequon.
Watch Nate tell his story here.
Nate Taffel at Congregation Shalom (May 2015)
Nate Taffel in Menomonee Falls Now (June 2013)