Philip was bor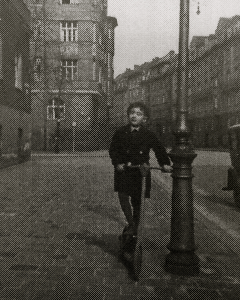 n to Max and Theresa Freund in Munich on June 5, 1931. His family had lived in Germany for around four hundred years, after escaping the Inquisition in Spain. In 1935 with the passing of the Nuremburg laws, the Freund family was stripped of their rights and citizenship.
Two years later, the Nazis executed Philip's father for trying to smuggle money out to start a new life for his family in Holland or Sweden. In 1939, Philip left Germany aboard the S.S. St. Louis with his mother, grandmother, sister, and over 900 other Jews trying to escape Nazi persecution.
The ship was a test set up by Hitler to see if any other countries would accept the Jews. The S.S. St. Louis was turned away from Cuba and the United States. The ship was forced to return to Europe.
The ship's passengers were divided up amongst European countries. England accepted some of the passengers, including the Freund's. Philip stayed there briefly before coming to the United States. He joined the army in 1951 and was deployed back to Germany. Upon returning to the U.S. he got his degree from the University of Wisconsin-Milwaukee in 1954 and his Masters degree from Marquette University in 1966.
Phil Freund in Milwaukee Journal Sentinel (November 2015)
Phil Freund on USC Shoah Foundation (May 2012)
Phil Freund in WKOW 27 Beloit (May 2009)