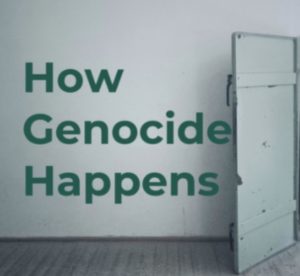 How Genocide Happens is an educational podcast that explores the complexities of mass violence in ways that make this challenging topic more accessible for teachers, students and a general public. It is hosted by Dr. Dan Haumschild, Director of Education at the Nathan and Esther Pelz Holocaust Education Resource Center (HERC) in Milwaukee, Wisconsin. Listen to the podcast here.
Episode 0: Welcome to How Genocide Happens
In the introductory episode of How Genocide Happens, host Dan Haumschild previews the first season and introduces listeners to the reasons for producing a podcast about this challenging subject.
Episode 1: Defining Genocide
In the first episode of How Genocide Happens, host Dan Haumschild addresses the definitions of genocide as adopted by the United Nations. He also provides very brief historical examples from around the world that exemplify the types of violence addressed by the UN declaration of 1948. Furthermore, he examines the concept as it was originally conceived by Raphael Lemkin, who is credited with coining the term. Finally, he previews the 10 Stages of Genocide by Gregory Stanton of Genocide Watch, which will serve as an outline for the first season. 
UN Convention on Genocide of 1948
Excerpts from Lemkin's book, Axis Rule in Occupied Europe (1944)
'What is Genocide' Prezi for Educators
What is Genocide? United State Holocaust Memorial and Museum
East West Street: On the Origins of 'Genocide' and 'Crimes Against Humanity' by Phillipe Sands
Totally Unofficial: Raphael Lemkin and the Genocide Convention, by Raphael Lemkin, et. al.–Downloadable book from Facing History and Ourselves
Episode 2: Classification
In this episode, host Dan Haumschild explores the first stage of genocide: classification. Through a brief examination of the primary dividing line that erupted in 1994 in Rwanda, he invites listeners to consider both the regularity by which we classify, and the potentially terrible consequences of this social and political practice in the hands of powerful agents. 
History Channel Summary of Rwandan Genocide Against the Tutsi
Leave None to Tell the Story: Genocide in Rwanda by Ali Des Forges
Rwanda Page Human Rights Watch
Citizen and Subject by Mahmood Mamdani
When Victims Become Killers by Mahmood Mamdani
Antecedents to Modern Rwanda: The Nyiginya Kingdom by Jan Vansina