Born Apri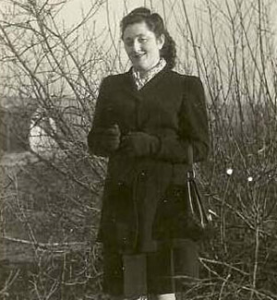 l 15, 1928 in Vilna, Poland, Raye David was an only child in a middle-class Jewish family in Poland. She attended private Yiddish school where she received a very good education. Her father was a well-known tailor who worked at a very exclusive shop.
In June of 1941 the Nazis attacked the Soviet Union. Her father was arrested on July 22nd and on the 25th he and thousands of others were shot to death in a nearby forest. In September of that year, Raye and her mother were forced into the ghetto.
Raye stayed in a tiny, overcrowded apartment in the ghetto where she lived in constant fear. Raye, with her mother and a few relatives, were eventually rounded up and packed in to cattle cars. They were sent to various concentration camps until December of 1944 when they were sent to Bergen-Belsen.
Raye survived the Bergen-Belsen death camp and was liberated by the British on her 17th birthday. She and her mother were sponsored by the American Jewish Federation and came to the United States. Raye came to Milwaukee when she was 21, and she married David David. When her husband was alive they loved traveling, attending the symphony, and the Milwaukee Repertory Theater. Since his passing, Raye travels less, but still attends The Rep regularly.
Raye David in Milwaukee Journal Sentinel (January 27, 2015)
Raye David at UW-Parkside (March 2010)