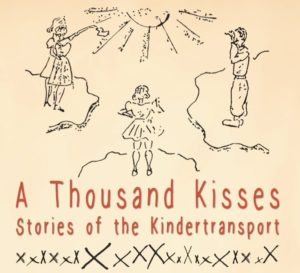 Join us for the opening of the exhibit "A Thousand Kisses: Stories of the Kindertransport."  Between December 1938 and May 1940, almost 10,000 unaccompanied mostly Jewish children were brought to Britain from Nazi Germany, Austria, Czechoslovakia and Poland in what became known as the Kindertransport. Using the archives of The Wiener Holocaust Library, the world's oldest collection of material on the Nazi era and the Holocaust, this exhibition tells the story of the Kindertransport through the experiences of some of the children and the loved ones they left behind.
The opening event will feature Kindertransport survivor Mr. Graham Fleming and Holocaust scholar Dr. Deborah Dwork. Mr. Fleming was born in Augsburg, Germany in 1926.  He left Germany one month before his thirteenth birthday via the Kindertransport and immigrated to America in 1955. Dr. Dwork is an American historian, specializing in the history of the Holocaust.  She is the Rose Professor of Holocaust History and Founding Director of the Strassler Center for Holocaust and Genocide Studies at Clark University in Worcester, Massachusetts.
Book sale and signing to follow program, courtesy of  Boswell Book Company.
For more information contact HERC at 414-963-2710.
Free and open to the public.
Generously Sponsored By:
Drs. Susan & Paul Bernstein
Dr. Melissa Chudnow & John Yopps
Suzy B. Ettinger
Matthew & Miriam Fleming
Julie Gorens-Winston & Dr. James Winston
Steve & Mardee Gruen
Co-Sponsors:
Friends of The Wiener Holocaust Library
Harry & Rose Samson Family JCC
Nathan and Esther Pelz Holocaust Education Resource Center (HERC)
The Wiener Holocaust Library