Cloudy Sunday: Film & Talk-Back
An Untold Tale: The Holocaust in Greece Series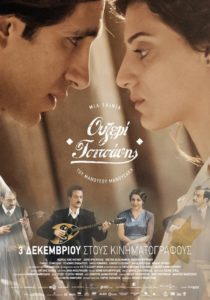 Greek drama that tells the story of the forbidden love between Estrea, a young Jewish girl, and Giorgos – a Christian and the brother-in-law of the famed composer Vassilis Tsitanis – in 1942 Thessaloniki (Salonika). Both young people are members of the Resistance. The film depicts the destruction of the Sephardic Jewish community of Salonika, whose Jewish population was 50,000 before the war, and 1,900 after. In Greek with subtitles, 2 hours, suitable for ages 15+.
Instructor: Dr. Amy Shapiro & member of the Greek Orthodox clergy
Free & open to the public.
Co-Sponsors:
Annunciation Greek Orthodox Church
Greek Orthodox Metropolis of Chicago
Harry & Rose Samson Family JCC
Sts. Constantine & Helen Church
Community Hall at Harry & Rose Samson Family JCC
6255 N. Santa Monica Blvd.