[CANCELLED]International Holocaust Remembrance Day at Polish Center [CANCELLED]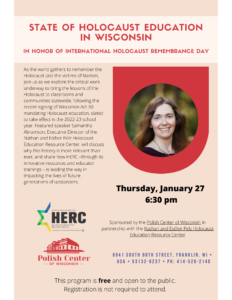 Unfortuntately due to safety restrictions this event has been cancelled.
As the world gathers to remember the Holocaust and the victims of Nazism, join us as we explore the critical work underway to bring the lessons of the Holocaust to classrooms and communities statewide, following the recent signing of Wisconsin Act 30 mandating Holocaust education, slated to take effect in the 2022-23 school year. Featured speaker Samantha Abramson, Executive Director of the Nathan and Esther Pelz Holocaust Education Resource Center, will discuss why this history is more relevant than ever, and share how HERC –through its innovative resources and educator trainings – is leading the way in impacting the lives of future generations of upstanders.
Registration is not required and is in person at:
6941 SOUTH 68TH STREET, FRANKLIN, WI •
USA • 53132-8237 • PH: 414-529-2140
This program is sponsored by the Polish Center of Wisconsin and the Nathan and Esther Pelz Holocaust Education Resource Center