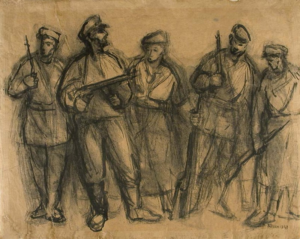 Join us for a conversation on the heroism and perseverance of Jewish resistance fighters – in the ghettos, camps, in partisan units and in a variety of underground organizations – who chose to respond to the Nazi Final Solution plan by resorting to armed resistance. Dr. Shay Pilnik, Executive Director of the Nathan and Esther Pelz Holocaust Education Resource Center, will explore this multi-faceted subject, illustrating the challenges and moral dilemmas that these young brave men and women were facing, as they fought – starved, dazed and poorly armed – against one of the most murderous military powers in the history of humankind.
The title, "Don't Ever Say the End is Near and Hope is Gone", is taken from what has become known today as the "Partisan Song," written by Hirsch Glick in the Vilna Ghetto in 1943. It became the anthem of the Jewish partisan fighters and is still sung throughout the world to honor those brave fighters.
Cost: Jewish Museum Members $3 | Non-Members $5
Kosher Boxed Lunch Options: $12 for Turkey, Roast Beef, Tuna | $10 Grilled Veggie
Each boxed lunch comes with a sandwich (choice of turkey, roast beef, tuna, or grilled veggie), chips, seasonal fruit or veggie, dessert, and a limited selection of beverages (water, coffee, tea, soda)
Offered in connection with Pictures of Resistance: The Wartime Photographs of Jewish Partisan Faye Schulman, an exhibit on display at the Jewish Museum Milwaukee, March 29 – May 26, 2019.
Co-Sponsor:
Jewish Museum Milwaukee