Learning to Inherit the Past with Drs. Dan Haumschild & Dan Prinzing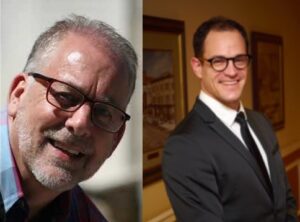 Join Dr. Dan Haumschild of the Nathan and Esther Pelz Holocaust Education Resource Center (HERC) and Dr. Dan Prinzing of the Wassmuth Center for Human Rights in Boise, Idaho. Both have served their organizations as Directors of Education and will explore how we move toward meaningful conversations about history, especially when that history is difficult and complex. The conversation will provide useful insight for teachers as well as anyone wishing to better conceptualize how we effectively learn from our past.
This talk will take place on HERC's Facebook Page. Remember, you can still view these virtual programs  even if you don't subscribe to Facebook. Check out this step-by-step guide on how to watch with us live.
This program is part of Holocaust Education week, July 20-24, 2020, focusing on Reckoning with Historical Injustice.
Co-Sponsors:
Nathan and Esther Pelz Holocaust Education Resource Center (HERC)
Philadelphia Holocaust Memorial Plaza
Wassmuth Center for Human Rights