LOMED Book Club: The Diary of Dawid Sierakowiak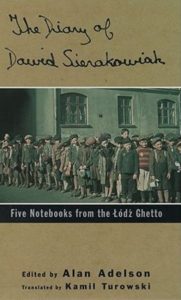 Join us for a LOMED Book Club to discuss The Diary of Dawid Sierakowiak: Five Notebooks from the Łódź Ghetto, the diary of a young man describing the relentless horror of the Łódź Ghetto while repeated rallying himself and his family against fear and pessimism.  
His diary comprises a remarkable legacy left to humanity by its teenage author. It is one of the most fastidiously detailed accounts ever rendered of modern life in human bondage. Studying in southern Poland during the summer of 1939, Dawid begins his diary with a heady enthusiasm to experience life, learn languages, and read great literature. He returns home under the quickly gathering clouds of war. Abruptly, Łódź is occupied by the Nazis, and the Sierakowiak family is among the city's 200,000 Jews who are soon forced into a sealed ghetto, completely cut off from the outside world.  
Museum Members: FREE | Non-Members $5 |  CJL Educators: FREE
This program is held in connection with The Girl in the Diary: Searching for Rywka from the Łódź, on display at Jewish Museum Milwaukee January 24 – May 17, 2020.
Co-Sponsors:
Coalition for Jewish Learning
Jewish Museum Milwaukee
Nathan and Esther Pelz Holocaust Education Resource Center (HERC)
Jewish Museum Milwaukee
1360 N Prospect Ave