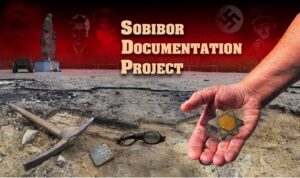 Please join us for a "sneak peek" of a documentary-in-progress (1 hour and 45 minutes) and a discussion with Sobibor Documentation Project filmmaker Gary Hochman.
After a prisoner revolt in 1943, the Nazi death camp, Sobibor, was destroyed to hide the evidence of the Holocaust. Decades later, an international archeological team began excavations in 2008 to uncover what the Nazis attempted to conceal.  Viewers will be able to see the Sobibor Documentation Project investigation unfold as findings are unearthed. The features of the camp and more than 70,000 artifacts reveal details about the Sobibor death camp, and why the Nazis were eager to erase it from history.
Following the "sneak peek," journalist and filmmaker Gary Hochman will join the audience for a discussion about why investigating Sobibor is so important to Holocaust education and combatting Holocaust denial, especially as eyewitnesses to this dark history disappear.
View trailer here.
Register here.
This program is free and 100% in-person at the Marcus North Shore Cinema. There will be no Zoom, no live-streaming, and no recording of it.
This is a program of the Nathan and Esther Pelz Holocaust Education Resource Center a program of the Milwaukee Jewish Federation.
Thank you to our promotional partners at the Peltz Center for Jewish Life, Jewish Museum Milwaukee, and the Milwaukee Jewish Federation.
Generously sponsored by Arnie and Cathy Peltz.
*MJF disclaimer:
We ask that all eligible adults who wish to attend in-person are current on relevant COVID-19 vaccinations, which includes receiving booster shots when eligible.