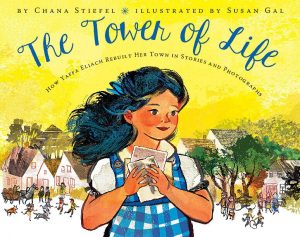 Have you visited the United States Holocaust Memorial Museum in D.C.? Do you remember the three-story tower of photographs that displays Eishyshok's (present-day Eisiskes, Lithuania) Jewish community before the Holocaust? Yaffa Eliach (1935 – 2016), a Holocaust survivor who became a pioneer in the fields of Holocaust history and education, traveled the world to find these photographs.
This Sunday, we as a community have the opportunity to hear from Chana Stiefel, award-winning children's author of The Tower of Life about Yaffa Eliach and her journey to restore her family's shtetl.
After, Pulitzer Prize and Robert F. Kennedy award-winning photojournalist Gary Porter will share his work documenting communities and teach us how to capture our own stories through photography.
Boswell Books will be at the event to sell copies of The Tower of Life.
Registered student attendees ages 10 and up will receive a free copy of the book. Coffee and light refreshments will be offered. 
This program is free and open to the public. *Optional suggested $18 dollar donation.  
This program is hosted by the Nathan and Esther Pelz Holocaust Education Resource Center – a program of the Milwaukee Jewish Federation.
Generously sponsored by the Richheimer families.
Promotional partners: Boswell Book Company, Chabad of Glendale/River Falls, Coalition for Jewish Learning, Congregation Beth Israel Ner Tamid, Congregation Emanu-El B'ne Jeshurun, Congregation Shalom, Congregation Sinai, Friendship Circle, Harry and Rose Samson Family Jewish Community Center, Jewish Museum Milwaukee, Lake Park Synagogue, Milwaukee Community Hebrew School, Milwaukee Jewish Day School, and Pelz Hebrew School

Funded in part by a grant from Wisconsin Humanities, with funds from the National Endowment for the Humanities. Wisconsin Humanities strengthens our democracy through educational and cultural programs that build connections and understanding among people of all backgrounds and beliefs throughout the state.
Any views, findings, conclusions, or recommendations expressed in this project do not necessarily represent those of the National Endowment for the Humanities.