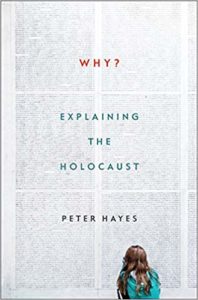 A Virtual Book Talk with Author Peter Hayes Ph.D. –
Despite the outpouring of books, movies, museums, memorials, and courses devoted to the Holocaust, a coherent explanation of why such ghastly carnage erupted from the heart of civilized Europe in the 20th century still seems elusive even 70 years later. World-renowned Holocaust historian and professor Peter Hayes brings a wealth of scholarly research and experience to bear on conventional, popular views of the history, challenging some of the most prominent recent interpretations.
This talk will take place on HERC's Facebook Page. Remember, you can still view these virtual programs even if you don't subscribe to Facebook. Check out this step-by-step guide on how to watch with us live.
There will be a virtual Q & A immediately following the presentation.
To order the book "WHY? Explaining the Holocaust, " by Peter Hayes Ph.D., please click on the following Boswell Book Company purchase link:  BoswellBooks.com/WHY
Boswell offers FREE curbside pick up and $4 HOME delivery.
For more information, contact HERC at 414-963-2710.
Generously Sponsored By:
Edward & Cathy David
Judy & Mark Garber
Dora & Shimon Russek Endowment Fund
Mike & Carol Tarnoff
This program is presented in partnership between the Harry & Rose Samson Family Jewish Community Center, Boswell Book Company, and the Nathan & Esther Pelz Holocaust Education Resource Center (HERC).