Yom HaZikaron – Israel's Day of Remembrance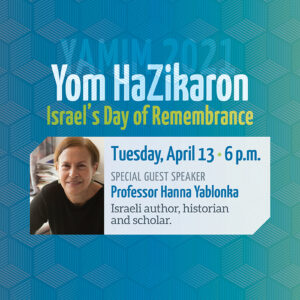 We hope you will join us in honoring Israel's victims of terror, and fallen soldiers and veterans of the Israel Defense Forces and other Israeli security services, at this year's virtual Yom HaZikaron ceremony, being held on Tuesday, April 13, at 6 p.m. More than ever, it is vital to demonstrate the unity and strength of Jewish Milwaukee for Israel's Day of Remembrance. 
This year's guest speaker is Professor Hanna Yablonka, an Israeli author, historian and scholar whose book The State of Israel vs. Adolf Eichmann received Yad Vashem's 2002 Buchman Memorial Prize. Immediately following the ceremony, Milwaukee Community Shaliach Uria Roth will host a question-and-answer session, to help community members learn more about the deep importance of Yom HaZikaron.  
 To register for Yom HaZikaron, please visit MilwaukeeJewish.org/Yamim. If you have questions about the ceremony or Q&A session, please email AllisonH@MilwaukeeJewish.org. 
In partnership with The Milwaukee Jewish Federation, the Harry & Rose Samson Family Jewish Community Center and the Nathan & Esther Pelz Holocaust Education Resource Center (HERC).