To learn more about our Field Trip programs contact us at HERC@MilwaukeeJewish.org.
The Journey that Saved Curious George: The True Wartime Escape of Margret & H.A. Rey featuring Author Louise Borden
On Monday, March 19th at Congregation Shalom in Milwaukee, American children's author Louise Borden will speak about the incredible story of the authors of Curious George. In 1940, Hans & Margret Rey fled their Paris home as the German army advanced. They began their harrowing journey on bicycles, pedaling to Southern Franc with children's book manuscripts among their few possessions. Borden is an American children's author who has written many fiction and non-fiction books including another Holocaust title, "His Name was Raoul Wallenberg: Courage, Rescue, and Mystery during World War II."
•  Thursday, March 19, 2018     |     9am     |     Congregation Shalom     |     7630 N Santa Monica Blvd
*Program free of charge.
From Ignorance and Fear to Knowledge & Understanding: Jews, Judaism, & the Holocaust (FIF)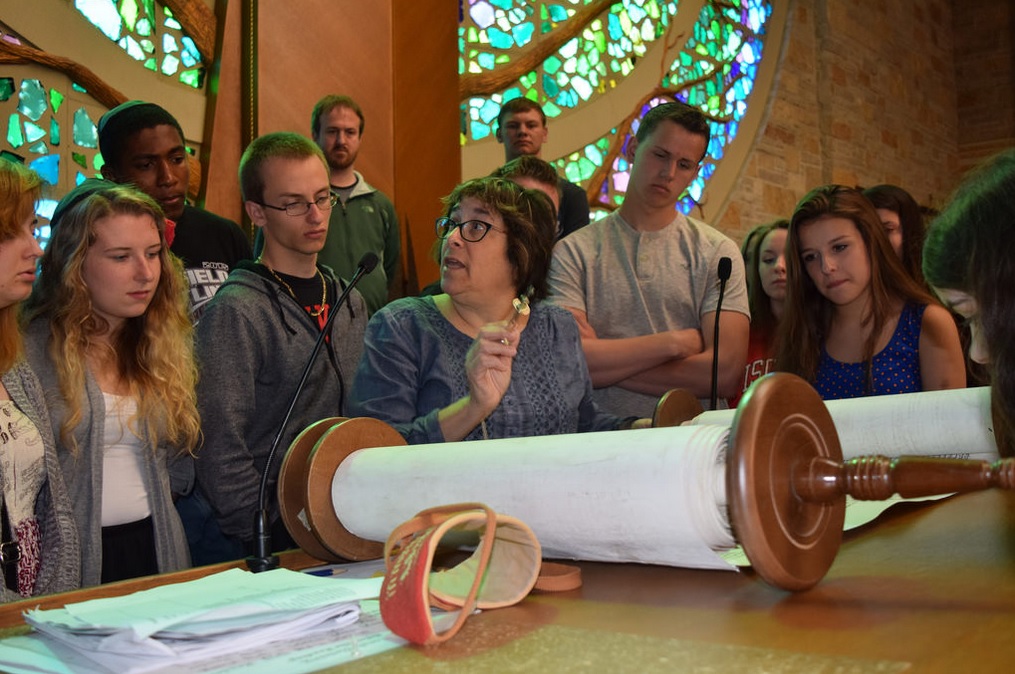 This 3 part program includes:
•  Judaism & the Synagogue
•  History of Antisemitism
•  Personal Holocaust Survivor Testimony
2017-2018 FIF Dates & Locations (All programs are held from 9:30am-12pm)
•  Thursday, May 3, 2018 at TBD
•  Thursday, May 10, 2018 at Congregation Shalom – 7630 N Santa Monica Blvd
•  Thursday, May 17, 2018 at Congregation Shalom – 7630 N Santa Monica Blvd
•  Thursday, May 24, 2018 at TBD
*A $30 non-refundable deposit to hold your group's reservation is required.
Field Trip to the Jewish Museum Milwaukee

Allied in the Fight: Jews, Blacks and the Struggle for Civil Rights (January 15 – March 18, 2018)
Allied in the Fight recounts the efforts made by American Jews and African Americans to fight for the fundamental American promise of equality before and during the Civil Rights era, and explores shared projects, organizational efforts, and, for a time, how many members of the African American and Jewish communities became allied against injustice.
As seen through photos, letters, film, and other rare, archival materials from selected collections of American Jewish Historical Society, Leo Baeck Institute, and Yeshiva University Museum, as well as materials sourced from locally-based collections and archives used to create an augmented component focusing on Milwaukee, Allied in the Fight strives to address Black-Jewish collaboration and the complicated nature of Jewish contributions to the Civil Rights movement in America.
In connection with the 50th anniversary of the 1967 Fair Housing Movement marches, and part of a city-wide initiative commemorating 200 Nights of Freedom, affiliated programs and collaborations will explore the coalition of Jewish and African American leaders who worked to convince their constituents of their shared quest for liberty and justice as well as the historical and evolutionary relationships of these communities.
Stitching History from the Holocaust (April 8 – September 23, 2018)
Jewish Museum Milwaukee is proud to bring back this popular, original exhibit after its first US tour. In 1997, the Strnad family in Milwaukee found an envelope bearing the Nazi seal while cleaning out their mother's basement. Inside was a letter from 1939 written by Paul Strnad. Paul asked his cousin Alvin to help him secure an affidavit for he and his wife, Hedy, to escape Nazi-occupied Czechoslovakia. Paul explained that Hedy was a dressmaker and included eight of her designs as proof of her talent.
Paul and Hedy did not survive the Holocaust. But her dress designs did. Realizing the letter's significance, the family donated it to Milwaukee's Jewish Historical Society. When the Jewish Museum Milwaukee opened in 2008, it became part of its permanent collection. In 2014, the museum worked with the Milwaukee Repertory Theater to bring Hedy's designs to life. Currently traveling around the country, a digital version of the exhibit allows visitors all over the world to learn about Hedy's story. With additional, never-before-seen content, it will continue to inspire children and adults alike.
*$25 group rate + $3 per student Museum entrance fee is required.
Field Trip to the Illinois Holocaust Museum & Education Center

Join HERC Educators on a visit to the Illinois Holocaust Museum & Education Center in Skokie, Illinois for their docent led museum program "In Our Voices".
Please contact our office at 414-963-2710 to discuss available dates for the 2017-2018 school year.
*A discounted $5 per student Museum entrance fee is required. Travel subsidies are available.