Samantha Abramson, Executive Director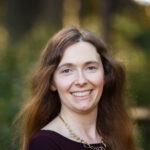 Milwaukee native Samantha Abramson holds a Master of Arts degree in Museum Studies from the George Washington University and a Bachelor of Arts degree in History with minors in Jewish Studies, Spanish, and English Literature from the University of Minnesota – Twin Cities.  Samantha brings over a decade of experience in nonprofits and museums, including the new Capital Jewish Museum, United States Holocaust Memorial Museum, Smithsonian Institution, Jewish Heritage North Carolina, and Jewish Museum Milwaukee.  Samantha followed this career path because of her passion for connecting multigenerational and youth audiences with history to inspire change for a better tomorrow.
Contact Samatha: SamanthaA@MilwaukeeJewish.org 
Kari Altman, Director of Outreach & Community Programs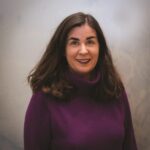 Kari Altman grew up in the Milwaukee area and graduated from University School of Milwaukee.  She became a licensed Wisconsin educator after graduating from the University of Wisconsin – Madison. Throughout the years Kari has taught elementary school students in both public and private schools and religious school at Congregation Shalom in Fox Point. A dedicated volunteer and community member, Kari has been happy to serve on several boards, including those of Congregation Shalom and the Milwaukee Jewish Free Loan Association, of which she is past President. Kari also served on the HERC Board of Directors from 2014 – 2017 and joined the HERC professional team in November of 2017.  Kari and her husband Michael are proud parents of Jack and Justin.
Contact Kari: KariA@MilwaukeeJewish.org 
Sam Goldberg, Director of Education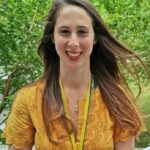 Originally from Redondo Beach, California, Sam received her Bachelor's degree from California State University Channel Islands in Communication for Nonprofit Business. In 2019, she graduated from Uppsala University with her Master's in Holocaust and Genocide Studies. Her thesis project took her to Rwanda where she researched the impact nonprofit peace education has had on the young generation. It was this interest in genocide education that brought her to HERC, where she works to engage teachers and students to learn stories from the Holocaust so the world can confidently say 'Never Again'.
Contact Sam: SamG@MilwaukeeJewish.org 
Judy O'Hara, Administrative Coordinator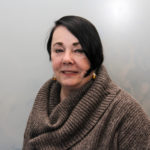 Originally from Northwestern Iowa, Judy has lived in Wisconsin for many years after spending 12 years in the US Marine Corps and the WI Army National Guard.  The military gave Judy the opportunity to visit 17 countries and hopes to visit Israel and Russia in the near future.  Judy enjoys working for HERC and the opportunities it has given her to work with programs that further Holocaust studies.  To round out her life, Judy volunteers at the Ovation Jewish Home Gift Shop and Habitat for Humanity.  In her free time, Judy enjoys learning foreign languages, taking violin lessons, browsing for books, and watching Star Trek: The Original Series.  Life is good – life is happy.
Contact Judy: JudyO@MilwaukeeJewish.org 
Sara Sillars, Education and Digital Content Manager
After living in Seattle, Sara Sillars moved back to her home state of Wisconsin with her husband and son. She received her Bachelor of Science in Applied Psychology from Grand Canyon University. For the past decade Sara has been studying, writing, and teaching about the Holocaust. She co-authored the book, Shanghai Deliverance, which was published in 2014. She has studied at Yad Vashem in Israel with the honor and privilege of hearing Professor Yehuda Bauer lecture there. She believes that in order to teach students about the Holocaust we must connect them to the stories of those who experienced it. It is not enough to know the facts. When we connect to the survivors of the Holocaust, when we can see ourselves in them, we cannot turn away so easily to the injustices that are present in the world.
Contact Sara: SaraS@MilwaukeeJewish.org