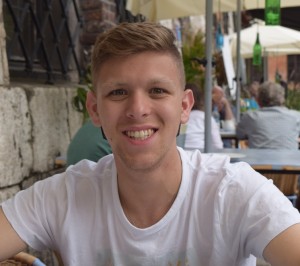 Pozdrowienia, my name is Jordan Pachefsky.  I am a junior attending the University of Wisconsin-Madison, majoring in Applied Economics.  After graduation I plan on entering the real estate industry with a focus on development and portfolio management.  With a strong base of Holocaust knowledge which has progressed throughout the course of my education, this trip is very meaningful to me as it is no longer a page in a book, but the post era environment in which "…hatred and intolerance paved the road to Auschwitz" (Elie Wiesel) several generations prior.
Today, 71 years after the end of the Holocaust, I had the opportunity to walk through Kazimierz, the Jewish quarter of Kraków. Although the structures of this community remain, the inhabitants of the once thriving center for cultural life no longer resemble the population prior to the war. It was difficult to see the wall constructed of vandalized head stones surrounding The Old Jewish Cemetery as my family's cemetery in Biolystok no longer bears the name of my ancestors, rather the graves go unmarked and the headstones used within the gardens of neighboring villages. The head stones within the wall serve to honor the memories of those that they belonged by encompassing the cemetery of The Remuh, adjacent to his former Synagogue.
Later in the day, we had the privilege of visiting the Jewish Community Center of Kraków and meeting with Executive Director, Jonathan Ornstein. After a discussion with Jonathan regarding the Jewish community of Kraków and a personal demonstration of Shofar Kraków, designed by Milwaukee native Richard Edelman with a twin Shofar outside the Milwaukee JCC, we visited the Izaak Synagogue which I later attended with Dr. Shay Pilnik and Dr. Karl Loewenstein for Friday evening Services. As the echoes of a hundred voices carried to the impressive arches, I felt the past 372 years of the Synagogue come alive, a powerful moment that will forever resonate within me.  View the trip's photo album here.
– Jordan Pachefsky, University of Wisconsin-Madison