2020 Prompt: What is the most important lesson from the Holocaust for us to learn today, in 2019/2020? In responding to the prompt, draw on specific examples from Holocaust history about events, survivors, or rescuers.
1st Place, Middle School Art (tie): Never Forget
Madison Olszewski, 8th grader at Maplewood Middle School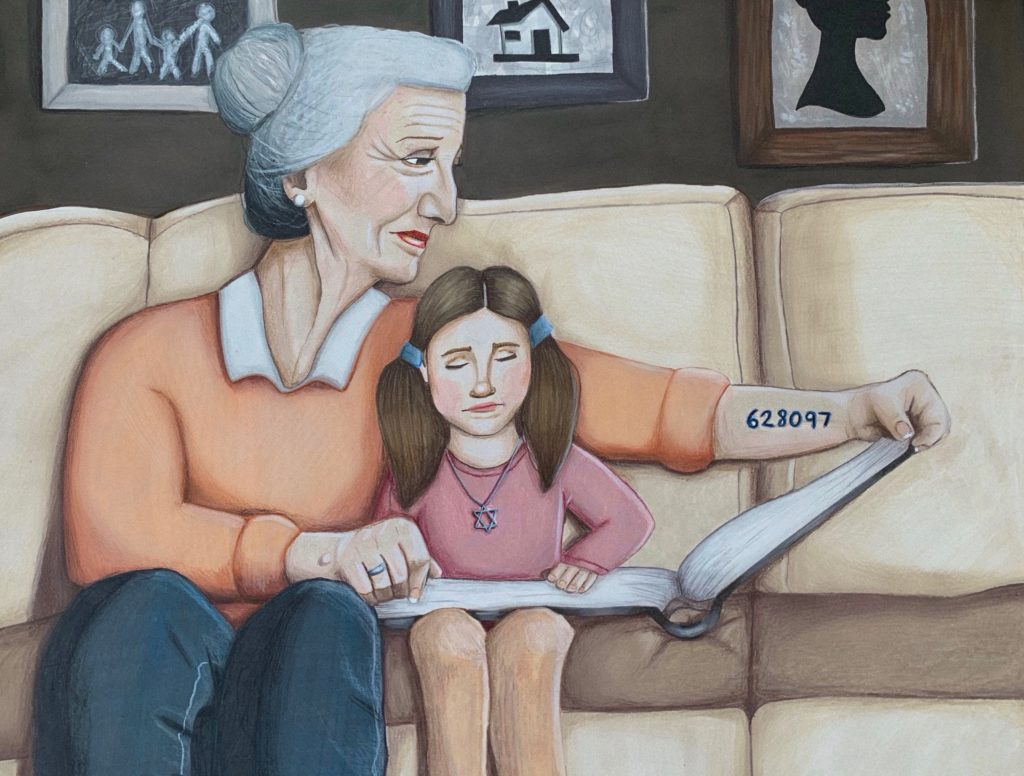 Artist Statement: My piece, "Never Forget" is influenced by the heart-wrenching, inspirational life story of Edith Fox. Edith Fox survived the horrors of the Auschwitz concentration camp. She witnessed countless scarring deaths of her friends and family. Edith managed to escape, however held her story from the world for over seventy years. Before Edith passed, she wanted the world to know the terror that she and so many others suffered. My piece portrays a survivor that represents Edith's story. It depicts the woman not only opening up an album, but also the hidden side of her life to her great granddaughter. The pictures on the wall illustrate the strength and courage it took these survivors to rebuild new lives. For the first time the woman is sharing her story, because although it is painful, it is vital for mankind to understand. Edith wanted to tell her story. She was afraid the world was forgetting. We need to continue on Edith's path. "We can never forget what happened. We can never let it happen again."
1st Place, Middle School Art (tie): Mia's Journey
Grace Erhard, 8th grader at Eagle View Middle School
Author Statement: My class has spent the past four weeks studying the Holocaust and learning about genocide all over the world, throughout history and over the past few years. We explored the struggle and fear that the victims of such events fought through. When writing "Mia's Journey", I did my best to imagine the horrors and pain that these millions of innocent people went through. This helped me to create one family to represent the millions that suffered and faced this persecution. Mia, and the journey that her family undergoes, is meant tell the story of not just one family, but the stories of the millions that lost their lives to this torture and unjust treatment. I hope that when people read my work they go into their lives differently. I hope that they walk away with a better understanding of how all people are equal. It has been overlooked in history, and even today's society, how people are treated differently based on religion or ethnicity. After reading this I hope that everyone will seek to accept diversity and be accepting of those of different cultures and religions.
Charlie Thompson, 8th Grader at Saints Peter & Paul Catholic School
Author Statement: The Holocaust was a horrific period in time that I feel strongly we need to learn from. The best way to ensure the Holocaust is never forgotten is through education for every generation. Recently, my class watched the documentary, Paper Clips. I was so inspired how the kids brought Holocaust education into their school and community. I was also inspired by reading the book, The Boy in the Striped Pajamas. Watching the survivor testimony videos on the HERC website gave me motivation to want to share the importance of education as a tool to ensure that history doesn't repeat itself. I researched how Hitler came to power and the timeline of events leading up to the Holocaust. I was heartbroken and shocked at how human beings could be so unfeeling towards other human beings. There was a total disregard of humanity. I want the reader of my essay to come away with a sense of duty to educate themselves and others about preventing the dehumanization of others that are different than themselves.
Anish Aradhey, 9th grader at Harrisonburg High School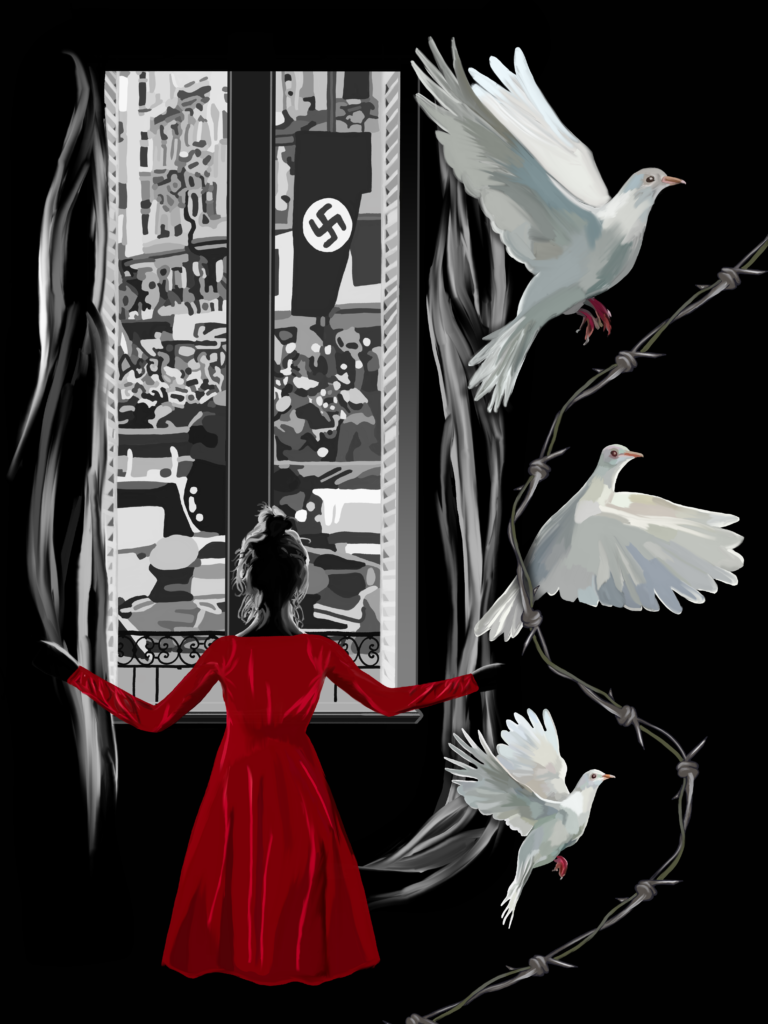 Artist Statement: This artwork is inspired by Holocaust survivor Freda Reider. The most striking moment of Ms. Reider's testimonial was her memory of witnessing a Nazi parade for the first time through the windows of her home. Her intense fear ended her childhood innocence permanently. My artwork visualizes this moment. The specific coloring emphasizes the red dress, which connects to Ms. Reider's recollection of her 'flamboyant' teenage sister, who once sewed a dress out of red velvet curtains. The dress represents the innocence that once shielded Ms. Reider. The abstracted representation of the scene outside the window directs focus to the swastika banner and allows the viewer to imagine the scene outside. The symbolism and doves and barbed wires applies to modern issues. The doves (hope) rising through the bard wire (violence) represent that peace will always rise above hate. This hopeful imagery balances my artwork's composition and message. I created this piece digitally to increase its shareability and reach. I had to experiment extensively, for I am less experienced with digital media; hence, creating this piece challenged all of my artistic abilities. As a whole, my artwork captures the narrative of a torn childhood but also the importance of hope.
Breanna Teynor, 12th grader at Prairie du Chien High School
Honorable Mentions
Middle School Art
Zeidy's Legacy & Fences
Mussie Wilschanski, 8th grader at Bader Hillel Academy 
Middle School Writing
The Most Important Lesson Learned from the Holocaust
Aratrika Chakrabarti, 8th grader at Eagle View Middle School
A Beacon of Light
Jackson Gross, 8th grader at Eagle View Middle School 
There is Beauty Someplace
Jane Handa, 8th grader at St. Junipero Serra Catholic School
Don't Take Anything For Granted
Rebecca Sattler, 8th grader at Milwaukee Jewish Day School
High School Art
98-705
John Laplander, 9th grader at Catholic Central High School