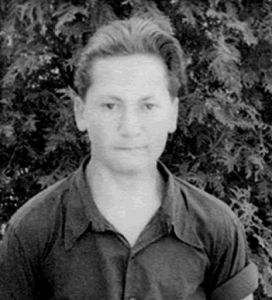 Born in Kovno, Lithuania on June 13, 1928, Albert was away at summer camp when the war broke out. When he returned home, his family had fled. His two brothers escaped to Russia. His parents lost his 6 year old sister on the road while trying to flee and in doing so, saved her life as a Christian woman from another city found and rescued her.
All the Jews in town were forced into a ghetto. The Germans began selecting and killing people by the thousands. The hospital in the ghetto was burned with all the doctors, nurses, and patients inside, killing everyone.
Albert was sent to labor and concentration camps where his father died, and he saw his mother and two of his sisters for the last time. Albert was sent to Dachau. In 1945 he was forced to march for ten days with 2,000 other Jews to an open field. They slept in the snow.
On May 2, 1945 Albert was liberated by American troops. He came to Milwaukee where he was drafted for the U.S. Army. Two years later he was deployed to Germany to work in a German youth center. He did not blame the innocent children for the awful things he had been through. Albert came back to Milwaukee and worked as a furnace man for fifty years.
Watch Albert tell his story: