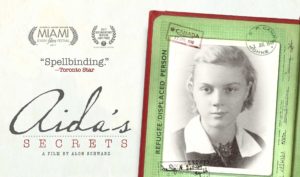 In this moving documentary, the discovery of records from WWII sparks a family's quest for answers as two brothers separated as babies reunite with each other and their elderly mother, who hid more from them than just each other.Izak Szewelwicz was born in the Bergen-Belsen displaced persons camp in 1945 and sent for adoption in Israel. Though Izak was able to form a relationship with his birth mother, his life was turned upside down years later when he located not only his birth certificate, but also another of a brother he never knew existed.Filmmakers Alon and Shaul Schwarz set out to find answers for Izak, uncovering questions of identity, resilience, and the plight of displaced persons as Izak and his brother Shep—both nearly 70 years old—finally meet in Canada before traveling to a nursing home in Quebec to introduce Shep to his elderly mother, Aida, for the first time.
Free and open to the public.
For more information contact Laurie Herman at LHerman@JCCMilwaukee.org or 414-967-8212.
Co-Sponsor:
Harry & Rose Samson Family JCC