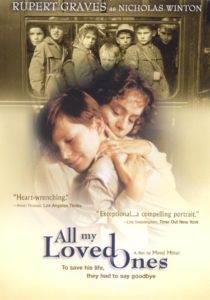 Matej Minac's heartbreaking and poignant story of one family's experience at the onset of World War II is inspired by the heroics of English stockbroker Nicholas Winton who saved hundreds of Czech Jewish children from the Nazis and is loosely based on his own mother's personal memories of the time.
For more information contact HERC at 414-963-2710.
Free and open to the public.
Generously Sponsored By:
Drs. Susan & Paul Bernstein
Dr. Melissa Chudnow & John Yopps
Suzy B. Ettinger
Matthew & Miriam Fleming
Julie Gorens-Winston & Dr. James Winston
Steve & Mardee Gruen
Co-Sponsors:
Friends of The Wiener Holocaust Library
Harry & Rose Samson Family JCC
Nathan and Esther Pelz Holocaust Education Resource Center (HERC)
The Wiener Holocaust Library