Back to School with HERC: Our Annual Report Card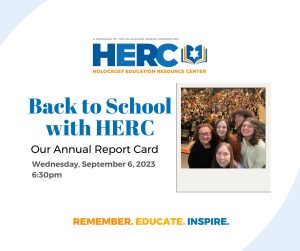 When Wisconsin Act 30, which mandates Holocaust and genocide education in Wisconsin schools, took effect in the 2022-23 school year, the Nathan and Esther Pelz Holocaust Education Resource Center (HERC) was ready to meet the needs of educators and students across our state.
Celebrate the completion of the inaugural school year of Act 30 (The Holocaust and Other Genocides Act) in Wisconsin, and educators and students impacted by HERC's life-changing mission and resources.
Special Honorees:
Holocaust Educator of the Year: Lindsay McBride, Ozaukee Middle School
Speakers Bureau Holocaust Survivors: Edie Pump, Werner Richheimer, and Eva Zaret
Program will include a unique honoring of survivors by Project Hue's Angela Shelstad in collaboration with HERC.
Harry and Rose Samson Family Jewish Community Center
6255 N. Santa Monica Blvd.