Book Discussion – Witness: Lessons from Elie Wiesel's Classroom
Attend the book discussion, Witness: Lessons from Elie Wiesel's Classr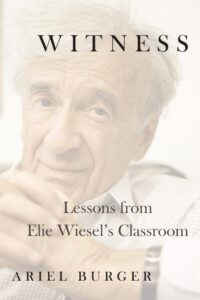 oom, written by Ariel Burger on Zoom, February 24th at 7 p.m. There will be an additional event on March 9th via Zoom at 7 p.m. with a lecture from the author, Ariel Burger – Lessons from Elie Wiesel in Light of Today's Challenges. 
Free to attend.
Rabbi Dr. Ariel Burger, biographer and protege of Elie Wiesel, uses teachings and lessons learned from his mentor to help us make sense of challenging times.
This program is co-sponsored by Milwaukee Jewish Federation -Coalition for Jewish Learning and Women's Philanthropy with the Nathan and Esther Pelz Holocaust Education Resource Center (HERC).