Camaraderie, Competition, and Commemoration: Talk with the Eintracht Museum, Frankfurt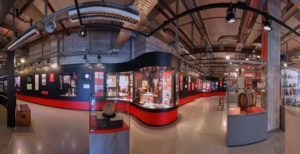 Join the Philadelphia Holocaust Remembrance Foundation (PHRF) – Philadelphia, PA on February 10 at 11 am for a conversation with Matthias Thoma, Director of the Eintracht Museum in Frankfurt Germany.
In this fascinating session, we will learn about the history of Frankfurt's premier soccer league club during World War II — and how the sports museum works today to address the soccer club's Holocaust legacy through public education and programs. Director Thoma will explore how sports in general and his museum specifically work to combat contemporary antisemitism and bigotry.
— Learn more about Thoma's historical mission: https://museum.eintracht.de/…/auf-den-spuren-der…
ZOOM REGISTRATION LINK: https://us02web.zoom.us/…/tZMsfuCppjMoGdcA-G4ZYgXB…
Presented in partnership with the Nathan and Esther Pelz Holocaust Education Resource Center (HERC) – Milwaukee, WI and The Wassmuth Center for Human Rights.
This program is presented as part of the Conference for Holocaust Education Centers (CHEC) through the United States Holocaust Memorial Museum (USHMM).