Censored Realities: Holocaust Correspondence from Ghettos & Camps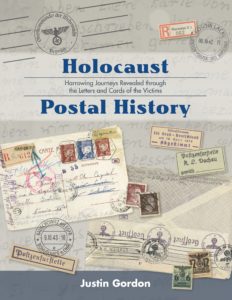 Justin Gordon will discuss his research and publication Holocaust Postal History: Harrowing Journeys Revealed through the Letters and Cards of the Victims. The lines of the correspondence he studied, are seemingly ordinary-until you realize that they were written in the darkest days of the Holocaust under tyrannical censorship.
Communications during the Nazi era in Europe does not provide answers to the major questions that still haunt us. It does, however, offer insight into the personal, unique journeys of victims of the Nazi onslaught. In many cases, an envelope or a postcard, as highlighted in this book, may be the only remnant of an individual's life.
The lecture will be follwed immediately by a book signing. Pre-order your own copy of Holocaust Postal History when you register for the program! Justin Gordon is a Holocaust postal historian. He has collected, exhibited, and lectured on the postal history of the Holocaust for 40 years.
Cost:
$6 per person for Members of Jewish Museum Milwaukee
$8 per person for Non-Members
Co-Sponsor:
Jewish Museum Milwaukee
1360 N Prospect Ave