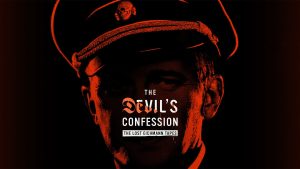 The Devil's Confession: The Lost Eichmann Tapes unearths secret recordings of Adolf Eichmann, one of the chief architects of the Holocaust, and definitively documents his actions during World War II. These recordings were made in 1957 by Dutch journalist and former SS-Officer Willem Sassen while Eichmann was hiding in Argentina. The interview with Sassen stunningly contradicts claims Eichmann made during his eventual 1961 trial in Israel for crimes against humanity, war crimes, and crimes against the Jewish people. This film explores the hidden forces that concealed the recordings, which altered the arc of history as we have understood it for more than 70 years and provides irrefutable evidence against Holocaust denial and the pernicious antisemitic hatred from which it springs. 
 This program is free and open to the public. Seating is limited. REGISTER HERE. 
After viewing the film, attendees can join a discussion led by UW-Milwaukee professor Winson Chu.
This program is a partnership between The Nathan and Esther Pelz Holocaust Education Resource Center, Hillel Milwaukee, The Sam and Helen Stahl Center for Jewish Studies, and the Israel Center of the Milwaukee Jewish Federation.