RESCHEDULED – Exploring American Antisemitism from Colonial Times to the Holocaust and Beyond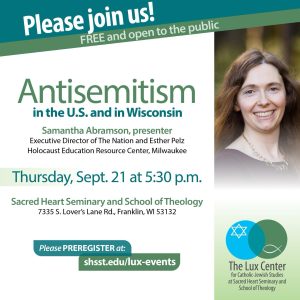 Samantha Abramson, Executive Director of the Nathan and Esther Pelz Holocaust Education Resource Center, will explore several instances of antisemitism throughout American history and how these episodes impacted America's response to the Holocaust as it unfolded. Samantha will also highlight the impactful work her team is doing across the state to bring Holocaust education to every school district to help combat rising antisemitism and other forms of hate.
Questions we'll ponder: 
What forms did antisemitism in America take in the years preceding the Holocaust, from the Civil War to World War II?  
How did American Jewry and interfaith allies respond to this antisemitism?
During World War II, how did Americans react to antisemitism domestically and abroad in Nazi Germany?  
With rising antisemitism in America today, what lessons can this history teach us? 
About the Speaker 
Milwaukee native Samantha Abramson is Executive Director of the Nathan and Esther Pelz Holocaust Education Resource Center of the Milwaukee Jewish Federation. She holds a Master of Arts degree in Museum Studies from the George Washington University and a Bachelor of Arts degree in History with minors in Jewish Studies, Spanish, and English Literature from the University of Minnesota – Twin Cities.  Samantha has over a decade of experience in nonprofits and museums as both an educator and exhibit developer, including the new Capital Jewish Museum, United States Holocaust Memorial Museum (USHMM), Smithsonian Institution, Jewish Heritage North Carolina, and Jewish Museum Milwaukee. Samantha was recently named as one of 15 Jewish professionals for Class 7 of the Wexner Field Fellowship, a competitive three-year program for rising Jewish communal leaders, created in partnership with the Jim Joseph Foundation. Samantha proudly sits on the Boards of Congregation Shalom and the Lux Center for Catholic-Jewish Studies.
Sacred Heart Seminary & School of Theology
7335 S Hwy 100