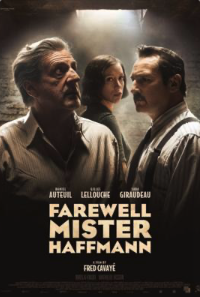 After the Nazi occupation of Paris, a talented jeweler, Joseph Haffmann, fearing the worst, arranges for his family to flee the city and offers his employee François Mercier a chance to take over his store until the conflict subsides. But his own attempts to escape are thwarted, and Haffmann is forced to seek his assistant's protection. It's a risky proposition for both men, and one that Mercier's wife Blanche is skeptical of. As the couple move in to the Haffmann home, the agreement turns into a Faustian bargain, one that will forever change the fate of all.
Join us in the theater – Tuesday, October 17 at 7:00 PM (Marcus North Shore Cinema)
OR Stream from home on Eventive – Tuesday, October 17, 7:00 PM – Thursday, October 29, 11:59 PM
Order tickets here
For help with streaming films, view our Virtual Help Guide.
Milwaukee Jewish Film Festival is presented by Tapestry: Arts & Ideas from the Harry & Rose Samson Family JCC.
This film shown in cooperation with the Nathan & Esther Pelz Holocaust Education Resource Center (HERC).