Who Will Write our History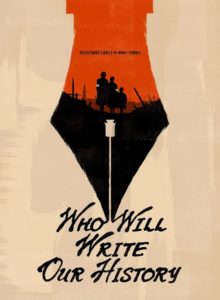 In November 1940, days after the Nazis sealed 450,000 Jews in the Warsaw Ghetto, a secret band of journalists, scholars and community leaders decided to fight back. Led by historian Emanuel Ringelblum and using the code name Oyneg Shabes, this clandestine group vowed to defeat Nazi lies and propaganda by documenting events in the Ghetto as they unfolded. Who Will Write Our History mixes the writings of the Oyneg Shabes archive with new interviews, rarely seen footage and stunning dramatizations to transport us inside the Ghetto. These courageous resistance fighters risked everything so that their archive would survive the war, even if they did not. Introduced by Dr. Winson Chu, UWM History Department.
Free and open to the public.
For more information contact Judy O'Hara at JudyO@MilwaukeeJewish.org or 414-963-2710.
Co-Sponsor:
Sam & Helen Stahl Center for Jewish Studies at the University of Wisconsin-Milwaukee
UWM Student Union Cinema
2200 E Kenwood Blvd