From the Holocaust to Civil Rights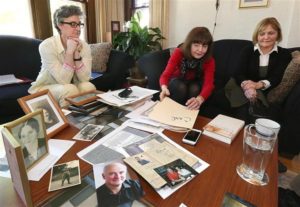 Debbie Simon Konkol, Joanne Simon Weinberg,  & Chris Simon Halverson will tell the incredible story of their family's journey.  Hear how they retraced the steps of their grandmother Alice Simon, who was murdered by the Nazis, and their father Rev. Dr. Carl Simon, a Presbyterian minister.  Discover how his family history affected his life and inspired him to become a civil rights activist, including marching with Dr. Martin Luther King Jr. in Selma. Introduction by Rabbi Ron Shapiro.
Cost:
Free for Members of Jewish Museum Milwaukee (Member Registration Here)
$5 per person for Non-Members (Non-Member Registration Here)
Walk-Ins Welcome!
Co-Sponsor:
Jewish Museum Milwaukee
1360 N Prospect Ave