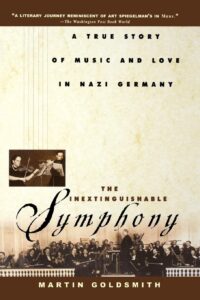 A Virtual Book Talk with Author Martin Goldsmith –
In the spring of 1933, more than 8,000 Jewish musicians, actors, and other artists were expelled from their positions with German orchestras, opera companies, and theater groups. Later that year, the Jüdische Kulturbund, or Jewish Culture Association, was created to allow Jewish artists to perform for Jewish audiences. A poignant testament to the enduring vitality of music and love even in the harshest times, The Inextinguishable Symphony gives us a compelling look at an important piece of Holocaust history that has gone largely untold.
Join Martin Goldsmith, author of  "The Inextinguishable Symphony: A True Story of Music and Love in Nazi Germany," as he discusses his parents' experiences during the Holocaust. Hailed by The Washington Post as "a literary journey reminiscent of Art Spiegelman's in Maus," The Inextinguishable Symphony tells the riveting story of the Jewish Kulturbund, an all-Jewish performing arts ensemble maintained by the Nazis between 1933 and 1941, an ensemble that included Mr. Goldsmith's parents. He is also the author of six hour-long biographies of Mozart, Beethoven, Brahms, Dvorak, Tchaikovsky, and Copland. Performed by the National Symphony Orchestra and conductor Leonard Slatkin, these Composer Portraits attracted enthusiastic crowds to the John F. Kennedy Center in Washington DC from 2003 to 2008, furthering Mr. Goldsmith's reputation as one of America's foremost advocates for classical music. He established that reputation through his work as a broadcaster. Martin Goldsmith is the director of classical music programming and the daily morning voice of Symphony Hall at Sirius XM Satellite Radio in Washington. He was the host of Performance Today, National Public Radio's daily classical music program for ten years through 1999. In 1998, Performance Today won the George Foster Peabody Award for excellence in broadcasting, and in the same year Mr. Goldsmith was awarded a Cultural Leadership Citation from Yale University "in recognition of service to the cultural life of the nation."
This talk will take place on HERC's Facebook Page. Remember, you can still view these virtual programs  even if you don't subscribe to Facebook. Check out this step-by-step guide on how to watch with us live.
Registration is encouraged, but NOT REQUIRED to attend this free event. With registration you could win a free copy of the book "The Inextinguishable Symphony: A True Story of Music and Love in Nazi Germany."
Click here to purchase the book from Boswell Book Company. Curbside pick-up or delivery available.
Co-Sponsors:
Boswell Book Company
Congregation Emanu El B'ne Jeshurun
Nathan and Esther Pelz Holocaust Education Resource Center (HERC)