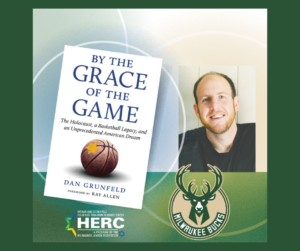 Sunday, February 6, 2022, 2pm on Zoom
Featured Speaker: Dan Grunfeld, with special guest appearance by Ernie Grunfeld

Former Milwaukee Bucks player and general manager Ernie Grunfeld is the only athlete in NBA history whose parents survived the Holocaust. A longtime figure in the public eye, audiences know very little about his background. Hot-off-the-press, this new book — written and lovingly researched by his son Dan Grunfeld — details what their family endured during the Holocaust, how basketball transformed Ernie from an immigrant outcast to an Olympic gold medalist for the United States. The story traverses the spectrum of the human experience to detail how perseverance, love, and legacy can survive through generations, carried on the shoulders of a simple and beautiful game.
Author Dan Grunfeld is a former professional basketball player and a proud graduate of Stanford University. An Academic All-American and All-Conference basketball selection at Stanford, Dan played professionally for eight seasons in top leagues around the world, including in Germany, Spain, and Israel. Prior to launching his career, Dan attended Nicolet High School. His mother, Nancy Kahn Grunfeld, is the daughter of local hero and trailblazing attorney Jerry Kahn, co-founder of Godfrey & Kahn Law Firm, who was instrumental in bringing the Bucks to Milwaukee. 
At the virtual event, Dan will appear in conversation with Craig Karmazin, the founder and chief executive officer of Good Karma Brands, a media and marketing company with expertise in leveraging the power of sports to build brands.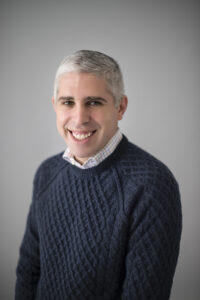 Suggested $18 donation 
Complimentary for students under 18
Register here.
Hosted by the Nathan and Esther Pelz Holocaust Education Resource Center, a program of the Milwaukee Jewish Federation 
In partnership with the Milwaukee Bucks
Generously sponsored by:
Kari and Michael Altman
Considering purchasing the book locally from Boswell Books: https://www.boswellbooks.com/book/9781629379227