The Ritchie Boys: From Training Camp to Victory
A Lecture by Dr. Guy Stern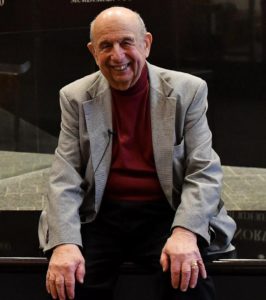 With the help of a Jewish committee and the sympathetic consular official, Guy Stern was able to escape the horrors of Nazi Germany and reach the United States. After the outbreak of war he and other youngsters of similar foreign heritage were inducted into the US Army and returned to Europe in time for the invasion of Normandy. They had been trained in all aspects of military intelligence and exercised their newly found skills, becoming highly-skilled interrogators of POWs, to extract military information from printed sources, and to write very informative reports for higher headquarters. Stern, ultimately promoted to Master Sergeant, developed several new methods for obtaining the essential information.  His team earned a unit decoration; Stern also the Bronze Star.  Later in his life he received the Legion of Merit Award, the highest recognition of the French government. Stern returned to the Normandy coast in 2017, 73 years after D-Day.
Free and open to the public.
For more information contact HERC at 414-963-2710.
Generously Sponsored by:
Marvin & Bobbie Tick
Co-Sponsor:
The Peltz Center for Jewish Life
The Peltz Center for Jewish Life
2233 W Mequon Road