(Community Program) The Light of Days: The Untold Story of Women Resistance Fighters in Hitler's Ghettos
with author Judy Batalion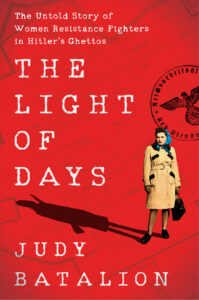 On Sunday, March 6, 2022, at 1:30pm at Congregation Shalom, New York Times Bestselling author Judy Batalion will be interviewed at a community event sharing her newly published book, "The Light of Days: The Untold Story of Women Resistance Fighters in Hitler's Ghettos."  This book tells the remarkable story, largely forgotten until now, of the young Jewish women who became resistance fighters against the Nazis during World War II.  It has already been optioned by Steven Spielberg for a major motion picture.  "These were women who acted with ferocity and fortitude – even violently- smuggling, gathering intelligence, committing sabotage, and engaging in combat; they were proud of their fire," says author Judy Batalion. This deeply researched book includes extraordinary accounts of the strong Jewish women who fought back against the seemingly unstoppable Nazi regime, never before chronicled in full. It follows the women through arrests, internment, and for a lucky few, into the late 20th century and beyond. 
REGISTER HERE
This program is in partnership with the Nathan and Esther Pelz Holocaust Education Resource Center and Congregation Shalom.
Purchase the book locally at Boswell Book Company.