Exploring several monuments located in Israel that relate to the Holocaust and Heroism, this session, presented by Dr. Yossi Shub, will explore the artists' expressions of the Shoah and commemoration.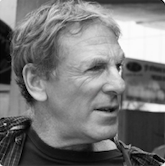 There are hundreds of Holocaust monuments and memorials scattered throughout Israel. They commemorate the activity of the partisans, fighters of the underground in the ghettos and concentration and extermination camps, and those who aided the Allied victory over Germany.
We will visit sites that commemorate the Jewish partisans, paying attention to the artistic aspects of the monuments.
Dr. Yossi Shub served as a fighter pilot in the Israeli Air Force as well as an El Al pilot for many years, Dr. Yossi Shub now lives in Moshav Tzofit in Central Israel. Proudly carrying on the legacy of his father – Baruch Shub, 97, a partisan in Lithuania – Yossi is one of the initiators of the Monuments Project seeking to bring the story of Jewish heroism to the public.
Forum for Dialogue is the biggest and oldest non-governmental organization working in the realm of Polish/Jewish relations. We work in small Polish towns, which once had vibrant Jewish communities, making our goal to share our experience gained from two decades of Forum's work. This work encompasses a network of people working on commemoration, preserving and researching communities and connections of yesterday and today.
RSVP for Zoom link: MilwaukeeJewish.org/SecondGeneration
For more information contact: Allison Hayden  – allisonh@milwaukeejewish.org – 414-390-5724
Forum for Dialogue is presenting this event in partnership with Partnership2Gether, a program of the Israel Center-Milwaukee Jewish Federation, and Nathan & Esther Pelz Holocaust Education Resource Center (HERC).