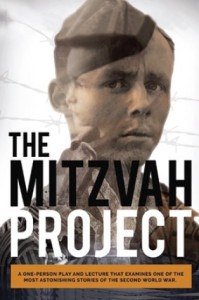 More than 100,000 German men — classified as "mischlinge" (the derogatory term the Nazis used to describe those descended from one or two Jewish grandparents) — fought in the German armed forces. "The Mitzvah," conceived, co-written and performed by actor and child of a survivor, Roger Grunwald, tells the tragic story of one of these soldiers who became a decorated officer in Hitler's army.
Grunwald performs three roles in the short play: a half-Jewish lieutenant in the German army, first encountered as he stands at attention during a mass tribute to Adolf Hitler in 1939; a Polish Jew from Bialystok, first seen begging for his life in Auschwitz; and The Chorus, a Groucho Marx-like comedian with wry commentary.
The tour stop in Milwaukee is part of the Holocaust Education Series presented in collaboration with the Nathan & Esther Pelz Holocaust Education Resource Center of the Milwaukee Jewish Federation and the Harry & Rose Samson Family Jewish Community Center.
The play is co-authored and directed by Broadway veteran, Annie McGreevey. The lecture examines the historical conditions that produced two centuries of German-Jewish striving, intermarriage and conversion, and the fate of the "mischlinge."
To date, "The Mitzvah Project" has been presented nationwide to Reform, Conservative and Orthodox synagogues as well as Holocaust centers and theaters. In May 2016, the tour will have its U.K. Premiere.
Co-sponsor:
Harry & Rose Samson Family JCC