The Milwaukee Premiere of The Last Cyclist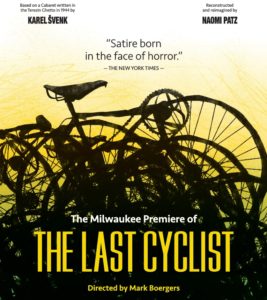 "The Jews and the cyclists are responsible for all of our misfortunes!"
"Why the cyclists?"
"Why the Jews?"
This bitter joke, well-known and often repeated by Jews in Europe between the First and Second World Wars in Europe, was the starting point for a fascinating play that HERC is proud to bring to Milwaukee in early April.
The Last Cyclist is an absurdist cabaret originally written by Karel Švenk in the Terezin Ghetto in 1944, but banned after its dress rehearsal for fear of Nazi reprisals. Švenk died on a forced march a few weeks before the end of the war as the Nazis retreated from the advancing Allied army. He was 28 years old. The play was reconstructed and re-imagined by Naomi Patz. Read the truly amazing story behind the history of the cabaret at  http://www.thelastcyclist.com.
Join us for the Milwaukee Premiere of The Last Cyclist on April 4th at 7pm in the Nancy Kendall Theater in the Joan Steele Stein Center for Communication/Fine Arts at Cardinal Stritch University. There will be a Q&A with Playwright Naomi Patz and Director Mark Boergers following the performance, with the evening concluding with a dessert reception (dietary laws observed).
Free Parking Lot 5
Tickets: $75 per person (Limited Seating Available)
Purchase tickets here or at 414-963-2710.
Generously Sponsored by:
Nancy & Jim Barnett
Ettinger Family Foundation
Co-Sponsors:
Cardinal Stritch University
Harry & Rose Samson Family JCC
Proceeds Benefit the Nathan and Esther Pelz Holocaust Education Resource Center (HERC)
Nancy Kendall Theater at Cardinal Stritch University
6801 N Yates Road