Weaving Resilience: Shoshana Comet's Tapestries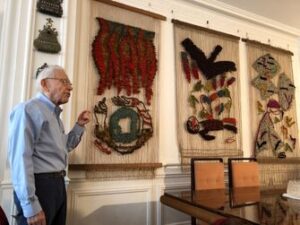 After surviving the Holocaust, Shoshana could not speak about her story. Instead, she expressed her trauma through art. Shoshana's husband, Ted Comet shares his wife's tapestries and her extraordinary story.
Please register for this event here:
https://www.eventbrite.com/e/weaving-resilience-shoshana-comets-tapestries-tickets
There is a 20 person limit for this event.
When registering, educators will be asked to participate in a survey. This survey is part of an impact assessment being conducted by the Nathan and Esther Pelz Holocaust Education Resource Center (HERC). The optional survey is designed to help us measure the impact of HERC's educational programs. The feedback on this survey will not influence educator relationships with HERC. If an educator gives consent to the survey someone at HJ IMPACT will be in touch.
In partnership with Jewish Museum Milwaukee and Nathan and Esther Pelz Holocaust Education Resource Center (HERC)