"Who Will Write Our History" Film & Talk-Back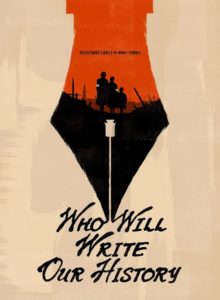 Historian Emanuel Ringelblum led the clandestine group known by the code name Oyneg Shabes in the Warsaw Ghetto. They vowed to defeat Nazi lies and propaganda not with guns or fists but with pen and paper.
Award winning Who Will Write Our History mixes the writings of the Oyneg Shabes archive with interviews, archival footage, and dramatizations. Talk-back with Dr. Amy Shapiro, Program Director of Philosophy and Women's and Gender Studies at Alverno College.
Museum Members: $5  |  Non-Members: $7  |  Ovation Residents: FREE
This program is held in connection with The Girl in the Diary: Searching for Rywka from the Łódź, on display at Jewish Museum Milwaukee January 24 – May 17, 2020.
Co-Sponsors:
Jewish Museum Milwaukee
Nathan and Esther Pelz Holocaust Education Resource Center (HERC)
The Sam & Helen Stahl Center for Jewish Studies at UWM
Rubenstein Pavilion at Ovation Jewish Home
1414 N. Prospect Ave.