Workshop for Children of Holocaust Survivors w/Dr. Steven Moffic
During this pilot one-hour virtual workshop moderated by Award-winning local psychiatrist Dr. Steven Moffic, children of Holocaust survivors will connect and begin to share their stories with one another.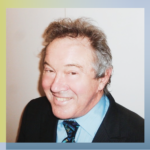 This workshop is not intended to serve as therapy, but simply as a safe space for children of Holocaust survivors to meet and learn from one another in a psychologically safe and supportive workshop.
**This program is only intended for children of Holocaust survivors.**
For more information, questions, and to RSVP, please contact Kari Altman at karia@milwaukeejewish.org 
This workshop is a program of the Nathan and Esther Pelz Holocaust Education Resource Center (HERC).