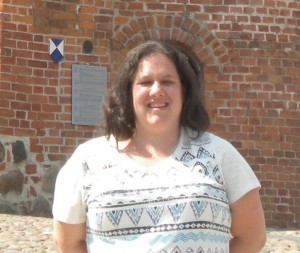 Hello, my Name is Nora Leigh. I am a junior at the University of Wisconsin-Oshkosh and a history  major. I was very happy to see this study abroad trip being offered because I have always liked learning about the Holocaust in history class. Also, to be able to visit the places I only just learned about from a book is an amazing experience for me.
I will be telling you about our first day in Vilnius, Lithuania. We visited the Old and New towns of Vilnius and learned about the Jewish people who lived in these two places before and after the war. We also visited "Pace Cathedral" which has amazing architecture inside that was sculpted in plaster. Next we went to Vilnius castle or Gedminas Castle. This castle was ruined by bombs from WWII. However one of four towers is remaining and we were able to climb up to the top of it and see a panoramic view of Vilnius. It was an amazing opportunity to see this beautiful town.
This trip has been an amazing experience for me and opened my eyes to many new experiences as well as opportunities to share my travels with all of you and my family, friends, and community.  View the trip's photo album here.
– Nora Leigh, University of Wisconsin-Oshkosh