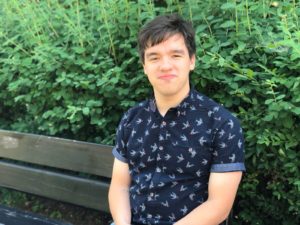 My name is Lucas Meixner. I study at the University of Wisconsin Oshkosh. I am a double major in Human Services and History. Today on our trip, we started at the Forum for Dialogue, which is a non-profit organization that has been around for about 20 years. They educate students from small Polish towns whose prewar populations were a majority Jewish. They teach the students about their own home towns and inspire them to be activists in order to restore Jewish memories within their community.
We then went to Holy Cross Church where the legendary composer Frederic Chopin's heart is buried. We also toured the University of Warsaw, and we got to look at the historic gate and library. We then went to the Warsaw Uprising museum. The building was the first power plant to supply power for the city tram system. The museum was very interesting and I learned a lot from the experience. We also got to see the Presidential Palace, called Belweder, which means beautiful view in Italian.
Overall today was very interesting, especially the Forum for Dialogue. I think in America, we only learned about Auschwitz and maybe Dachau but nothing really more. After going to the meeting at Forum for Dialogue, it really spurred my thoughts on how we can teach the next generation about the Holocaust. The speaker talked about how the people they teach become the living memory of those who died in the Holocaust. I think our trip has the same meaning deep down. We have to teach others about what happened in Poland and about the Holocaust.
– Lucas Meixner, UW-Oshkosh