Avner Avraham: The Capture & Trial of Adolf Eichmann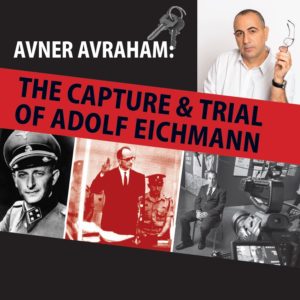 A former Mossad agent, Avner Avraham is a renowned expert on Mossad operations who famously worked to reveal and publicize the insider story of the historic 1960 capture of Nazi war criminal Adolf Eichmann. While working as a Mossad agent, Avraham discovered the original documents surrounding Eichmann's capture and trial, and, moved to share his findings with a wider audience, curated the world-famous and headline-making museum exhibit "Operation Finale: The Capture and Trial of Adolf Eichmann" and produced an accompanying documentary. With the story now the subject of a major motion picture – MGM's Operation Finale starring Oscar Isaac and Ben Kingsley – for which Avraham served as a key consultant, Avraham is in-demand for his fascinating insights into this rich chapter of Jewish history and engaging anecdotes on his time as real-life spy.
Join us on Tuesday, March 5th at 6:30pm for a viewing of Operation Finale and a discussion of the film led by Rabbi Noah Cherkoff at Congregation Shalom.
Free and open to the public.
For more information contact Kari Altman at KariA@MilwaukeeJewish.org 414-963-2716.
Generously Sponsored by:
Betty Chrustowski
Kennedy Barnett Lifelong Learning Fund
In Memory of Gary Lippow
Larry & Ronna Pachefsky
Brad & Marilyn Shovers
Co-Sponsor:
Congregation Shalom
Congregation Shalom
7630 N Santa Monica Blvd