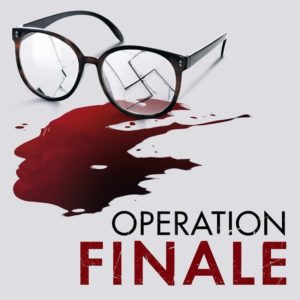 Join us for a viewing of Operation Finale, and discussion of the film with Rabbi Noah Chertkoff.
Operation Finale is based on a remarkable true story, starring Oscar Isaac and Ben Kingsley.
Fifteen years after the end of World War II, a team of top-secret Israeli agents travels to Argentina to track down Adolf Eichmann, the Nazi officer who masterminded the transportation logistics that brought millions of innocent Jews to their deaths in concentration camps. Hoping to sneak him out of the country to stand trial, agent Peter Malkin soon finds himself playing a deadly game of cat and mouse with the notorious war criminal.
Join us on Sunday, March 10th at 1:00pm as we welcome guest speaker and former Mossad agent, Avner Avraham, to Congregation Shalom. Avraham served as a key consultant on this film which is based on his discovery of the original documents surrounding Adolf Eichmann's capture and trial. He was moved to share his findings with a wider audience, and curated the world-famous and headline-making museum exhibit "Operation Finale: The Capture and Trial of Adolf Eichmann" and produced an accompanying documentary.
Free and open to the public.
RSVP to Abby Habush Schroeder at 414-352-9288 or Abby@Cong-Shalom.org
Co-Sponsor:
Congregation Shalom