Between December 1938 and May 1940, almost 10,000 unaccompanied mostly Jewish children were brought to Britain from Nazi Germany, Austria, Czechoslovakia and Poland in what became known as the Kindertransport. Join us as we explore the Kindertransport through an exhibit, films, lectures, and a theatrical performance throughout the spring of 2020.
Exhibit and all programs take place at the Harry & Rose Samson Family JCC at 6255 N Santa Monica Blvd in Whitefish Bay.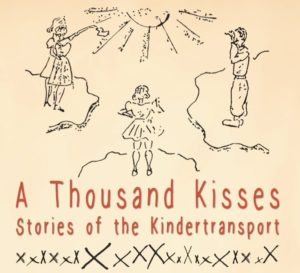 A Thousand Kisses: Stories of the Kindertransport Exhibit (January 9 – February 10, 2020)
Using the archives of The Wiener Holocaust Library, the world's oldest collection of material on the Nazi era and the Holocaust, this exhibition tells the story of the Kindertransport through the experiences of some of the children and the loved ones they left behind. 
Exhibit Opening Event feat. Kindertransport Survivor Graham Fleming & Dr. Deborah Dwork (Thursday, January 9 at 6:30pm)
The opening event will feature Kindertransport survivor Mr. Graham Fleming and Holocaust scholar Dr. Deborah Dwork. Mr. Fleming was born in Augsburg, Germany in 1926.  He left Germany one month before his thirteenth birthday via the Kindertransport and immigrated to America in 1955. Dr. Dwork is an American historian, specializing in the history of the Holocaust.  She is the Rose Professor of Holocaust History and Founding Director of the Strassler Center for Holocaust and Genocide Studies at Clark University in Worcester, Massachusetts.
My Mother's Story: A Kindertransport Lunch & Learn with Dr. Sue Bernstein (Tuesday, February 4 at 12pm)
Dr. Sue Bernstein will share the courageous story of survival of her mother Ruth Wasserman Segal who was born in 1926 in Nuremberg, Germany.  She survived the Holocaust by embarking on the Kindertransport from Germany en- route to England on April 18, 1939.
"Into the Arms of Strangers" Film (Thursday, February 27 at 7pm)
For nine months prior to the outbreak of World War II, in an unprecedented act of mercy, Great Britain conducted an extraordinary rescue mission known as the Kindertransport. Ten thousand Jewish and other children were transported from their homes in Germany, Austria, Czechoslovakia, and Poland and placed into British foster homes and hostels, expecting eventually to be reunited with their parents. The majority of the children never saw their families again. The film tells this unique story through the firsthand accounts of 12 of the children who were rescued, as well as a parent, a foster parent, and two rescuers. Their recollections are interwoven into a compelling chronological narrative and illustrated by rare archival footage, photographs, and personal artifacts.The result is a hopeful and human portrait of an unusual and edifying historical event.
"All My Loved Ones" Film (Thursday, March 12 at 7pm)
Matej Minac's heartbreaking and poignant story of one family's experience at the onset of World War II is inspired by the heroics of English stockbroker Nicholas Winton who saved hundreds of Czech Jewish children from the Nazis and is loosely based on his own mother's personal memories of the time.
Series Generously Sponsored By:
Drs. Susan & Paul Bernstein
Dr. Melissa Chudnow & John Yopps
Suzy B. Ettinger
Miriam & Matthew Fleming
Julie Gorens-Winston & Dr. James Winston
Mardee & Steve Gruen
Series Co-Sponsors:
Friends of The Wiener Holocaust Library
Harry & Rose Samson Family JCC
Nathan and Esther Pelz Holocaust Education Resource Center (HERC)
The Wiener Holocaust Library